Asparagus has always been one of our favorite vegetables. Once I learned how to cook fresh asparagus I've taken advantage of doing it lots of ways. I've steamed them in a steamer on the stove top, and in the microwave. I've roasted and grilled asparagus.
I've cooked asparagus with orange, ginger and sesame oil. I've cooked asparagus with a wide variety of things, ginger and apricot, parmigiano-reggiano cheese and with orange and toasted hazelnuts. I've used blanched asparagus in salads with light and flavorful vinaigrettes. There are hundreds of easy asparagus recipes you can try that take no time at all.
With all the great asparagus recipes I've tried over the years my favorite way to cook fresh asparagus is to roast it. Roasting asparagus with olive oil, salt and pepper is the simplest way to cook it and it brings out the sweetness and full flavor of asparagus .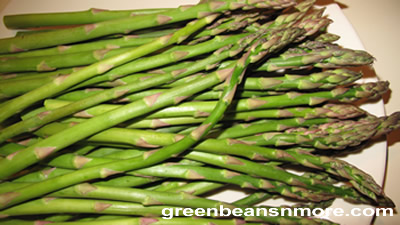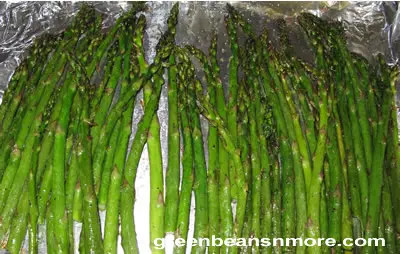 Easy Roasted Asparagus
Preheat oven to 400 degrees F.
Snap off the stem ends. Cover a baking sheet with aluminum foil. Place the asparagus on the baking sheet. Drizzle olive oil over the asparagus. Salt and pepper liberally. Toss asparagus to thoroughly coat stalks and tips.
Roast asparagus until tender. Thin spears should roast between 10 and 12 minutes. Roast thicker spears up to 15 minutes.


Tips on storing asparagus: When I get the asparagus home the first thing I do is cut 1/4" off the stalks and stand them in lukewarm water. I want them to stand this way at least 30 -45 minutes before I use them. I don't buy asparagus unless I know I'm going to use it within a day or two. If I'm going to cook the asparagus in water I do very carefully rinse it in lukewarm water. When I'm planning on roasting asparagus I do not rinse it. If you do choose to rinse it make sure that you dry it thoroughly so the olive oil will stick to the stalks and tips.


Click here to print this recipe
---
Quick & Easy Recipes


Appetizers - Caper Dip, Hummus, Almond Dip, Sweet & Sour Curry Dip
Basic Meatloaf Recipe
Best Homemade Chili Recipe
Caramelized Roasted Brussels Sprouts
Homemade Turkey Vegetable and Noodle Soup
Maryland Lump Crab Cake
Roasted Asparagus
Roasted Tomatoes with Garlic and Balsamic Vinegar
Split Pea Soup, Magic Pan Restaurant
Sweet Dill Pickle Recipe
Three Cheese Baked Macaroni and Cheese
Tomato, Zucchini & Eggplant Bread Gratin
Vegetable Ribbons, Steamed, Sauteed
Whole Baked Chicken Recipe
Tasty & Easy Green Bean Recipes


Armenian Green Beans with Ground Meat and Tomatoes (Fassoulia)
Blanched Green Beans
Cream of Green Bean Soup (Company's Coming)
Fried Green Beans
Dilly Green Beans Recipe - Canning Recipe
Ginger Garlic Green Beans
Greek Green Beans
Greek Potatoes and Green Beans
Green Bean Soup (Company's Coming)
Green Beans a'la Waterman's
Green Beans Almondine
Green Beans Almondine (with a hint of lemon)
Green Beans Almondine (with an Asian flair)
Green Beans Almondine (with mushrooms)
Green Beans and Prosciutto Pasta Salad
Green Bean Casserole (Campbell's)
Green Bean Casserole (Cook's Illustrated)
Green Beans, Endive & Boston Lettuce Salad
Green Beans in Sour Cream & Tomato Sauce
Green Beans Provençal, Chef Simone Beck
Green Beans Provençal, Cooking Light
Green Bean Salad, Dill, Parsley & Savory
Green Bean Salad, Feta & Pecans
Green Bean Salad, Soy Glazed Almonds, Cilantro
Green Beans with Coconut
Green Beans with Ginger Butter
Green Beans with Onion Paste (Madhur Jaffrey)
Green Beans with Roman Mustard
Green Beans with Shallots
Italian Green Beans (St. Anna Beans)
Lemon Green Bean & Celery Salad
Oven Roasted Green Beans
Pears with Green Beans & Bacon
Persian Green Beans & Rice (Lubia Polo)
Sautéed Green Beans with Hazelnut Crumbs
Sesame & Portobello Green Beans
Sicilian Green Bean & Fennel Salad (Cooking Light)
Stir-Fried Green Beans with Pork & Chilies
Sweet & Sour Green Beans
Thai Green Beans (Cooking Light)
Three Bean Salad Recipe
White Bean, Green Bean & Red Bell Pepper Salad