I'll bet your mother never made ham and split pea soup like this! This is a marvelous recipe credited to the Magic Pan Restaurant. You can find this recipe posted on many sites, I found it on recipes-from-friends.com. It's a rich soup that is definitely what we call in our house "guest worthy", although I don't wait for guests to make it.

This green pea soup recipe will make you look forward to the next time you cook a ham. By the way, try our delicious holiday pineapple glazed ham recipe this soup is the perfect way to use the bone!

Please read my "Cook's Tips" following the recipe.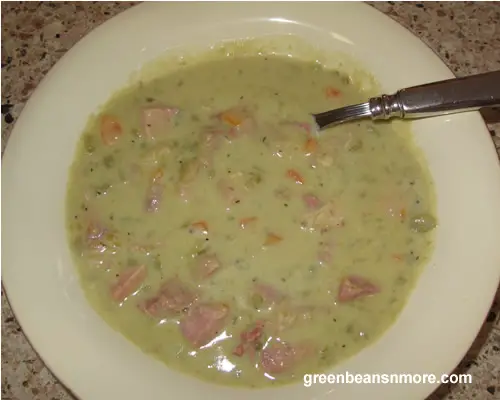 Split Pea and Ham Soup

1 pound ham bone
4 1/2 cups water
1 can chicken broth (13 or 14 oz)
2 cups split green peas
1 - 1 1/2 tablespoons butter
2/3 cups finely chopped leeks or green onions
1/3 cup finely chopped carrots
1/3 cup finely chopped celery
1 teaspoon granulated sugar
1/2 teaspoon garlic powder
1 teaspoon salt
1/4 teaspoon thyme
1 Bay leaf
1/2 teaspoon pepper
2 1/2 cups milk
1 cup whipping cream
1 cup chopped ham, cooked
1/2 cup chopped chicken, cooked (optional)

Place the ham bone in a large pot. Add the water, chicken stock and peas and bring to a boil over medium heat. Reduce the heat and simmer for thirty minutes, stirring occasionally.

Saute the onions, carrots and celery in butter until limp. Add them to the soup pot along with all the seasonings and continue to simmer the mixture until the peas are very soft, about 45 minutes. Remove the ham bone. Stir in the milk and cream. Add the ham and chicken. Simmer, stirring occasionally 10 - 15 minutes.

Can be served with a dollop of sour cream and chopped parsley.

Cook's Tips: Before I put the ham bone in the water and stock I slice some of the meat off of it. After the bone has done it's work and is removed from the soup set it aside to cool. There is still a good bit of meat on it that can be added to the soup. I always add more ham and chicken than the recipe calls for. It helps to make the soup extra hearty.

The recipe calls for you to saute the onions, carrots and celery until just limp. I use 1 - 1 1/2 tablespoons of butter to do this (this was left off of the original recipe).

As green onions are much cheaper in the grocery store than leeks, and the recipe only calls for a small amount (2/3 cup), I use green onions.

The recipe calls the addition of chicken "optional" but I always add it when I make this soup. I like dark meat so I bake chicken thighs (with the skin on) to use in this soup. It really adds to the depth of flavor.

You may find you need to add a bit more salt, I do. Don't add any additional salt until the soup is finished cooking.
Click here to print this recipe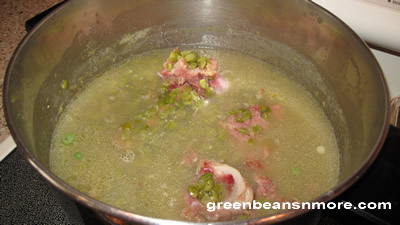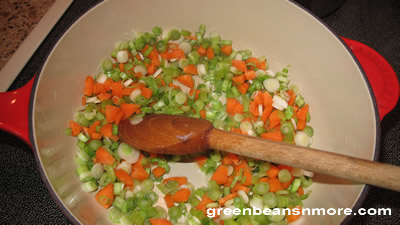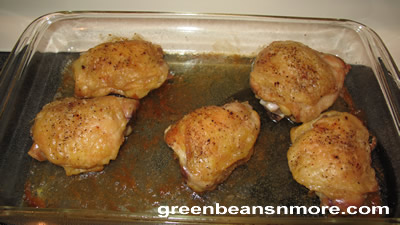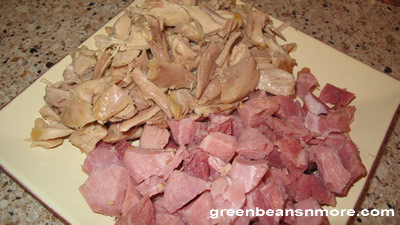 ---
Quick & Easy Recipes


Appetizers - Caper Dip, Hummus, Almond Dip, Sweet & Sour Curry Dip
Basic Meatloaf Recipe
Best Homemade Chili Recipe
Caramelized Roasted Brussels Sprouts
Homemade Turkey Vegetable and Noodle Soup
Maryland Lump Crab Cake
Roasted Asparagus
Roasted Tomatoes with Garlic and Balsamic Vinegar
Split Pea Soup, Magic Pan Restaurant
Sweet Dill Pickle Recipe
Three Cheese Baked Macaroni and Cheese
Tomato, Zucchini & Eggplant Bread Gratin
Vegetable Ribbons, Steamed, Sauteed
Whole Baked Chicken Recipe
Tasty & Easy Green Bean Recipes


Armenian Green Beans with Ground Meat and Tomatoes (Fassoulia)
Blanched Green Beans
Cream of Green Bean Soup (Company's Coming)
Fried Green Beans
Dilly Green Beans Recipe - Canning Recipe
Ginger Garlic Green Beans
Greek Green Beans
Greek Potatoes and Green Beans
Green Bean Soup (Company's Coming)
Green Beans a'la Waterman's
Green Beans Almondine
Green Beans Almondine (with a hint of lemon)
Green Beans Almondine (with an Asian flair)
Green Beans Almondine (with mushrooms)
Green Beans and Prosciutto Pasta Salad
Green Bean Casserole (Campbell's)
Green Bean Casserole (Cook's Illustrated)
Green Beans, Endive & Boston Lettuce Salad
Green Beans in Sour Cream & Tomato Sauce
Green Beans Provençal, Chef Simone Beck
Green Beans Provençal, Cooking Light
Green Bean Salad, Dill, Parsley & Savory
Green Bean Salad, Feta & Pecans
Green Bean Salad, Soy Glazed Almonds, Cilantro
Green Beans with Coconut
Green Beans with Ginger Butter
Green Beans with Onion Paste (Madhur Jaffrey)
Green Beans with Roman Mustard
Green Beans with Shallots
Italian Green Beans (St. Anna Beans)
Lemon Green Bean & Celery Salad
Oven Roasted Green Beans
Pears with Green Beans & Bacon
Persian Green Beans & Rice (Lubia Polo)
Sautéed Green Beans with Hazelnut Crumbs
Sesame & Portobello Green Beans
Sicilian Green Bean & Fennel Salad (Cooking Light)
Stir-Fried Green Beans with Pork & Chilies
Sweet & Sour Green Beans
Thai Green Beans (Cooking Light)
Three Bean Salad Recipe
White Bean, Green Bean & Red Bell Pepper Salad