Get more from GreenBeansNMore!
Our recipes aren't limited to Green Beans!
All of our easy to print recipes are tried and true, from trusted sources.

Some of our recipes have valuable cooking tips!
You'll find all our free recipes have an easy to print option. We hope that you'll enjoy these tried and true recipes, and that you'll check back with us often as we add to our recipe database. We have a wide variety of green bean recipes, from classics like
Green Beans Almondine
and
Campbell's Green Bean Casserole
, to new recipes such as
Green Beans a'la Waterman's
.
We're proud of our variety of ethnic green bean recipes. Cook delicious
Greek Green Beans
, green beans slowly simmered with onions, garlic and tomatoes, or try the German recipe of
Pears with Green Beans & Bacon
, a fabulous sweet and sour recipe featuring fresh ripe pears. Enjoy
Russian green beans in sour cream and tomato sauce
or the Persian green bean and rice dish
Lubia Polo
. You'll be amazed how easy these recipes are.
What is a Mezze? Get a great sampling of recipes and ideas for hosting your own Middle-Eastern Mezze.
Try our delicious
Moroccan Beef Stew
, our flavorful and easy
Orange Salmon with Fennel
or
Eggplant and Zucchini Gratin
. Our delicious
dessert recipes
include a classic Red Velvet Cake with Buttercream Frosting as well as delightfully chocolately Black Bottom Cupcakes.
Green Beans Have World Wide Appeal!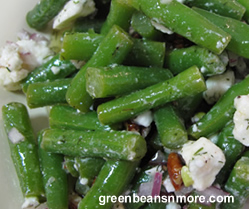 Asian cooks add spices like garlic, ginger, scallions, chili paste and soy sauce to green beans.
Greek green beans are simmered with onions, tomatoes, garlic and oregano until soft.
Italian recipes for green beans are very similar to the Greek recipes. They call for stewed tomatoes, onion, garlic, basil and parmesan cheese.

French love fresh young green beans. They call them "haricot verts" and cook them gently, using white wine, mushrooms, pearl onions and garlic. Some French recipes call for nothing more than the addition of fresh lemon and parsley.

When you start off with the perfect ingredient less is actually more.
One of our favorite things is a steaming bowl of homemade turkey soup. Check here for some delicious turkey soup recipes