Once I learned how to grill corn on the cob I don't want to cook it any other way. I like the idea of not having to deal with steaming the corn on the stove, why have the added pot to clean? This corn is always a hit at our cook outs. Everyone enjoys the flavor of the charred ears of corn.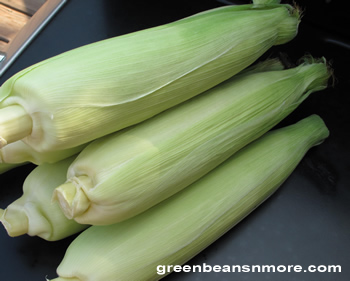 How to prepare corn for grilling

I prefer to grill corn in the husk. It helps to protect the corn during grilling and you still get beautiful roasted kernels. Remove the dry outer husks, leaving the internal softer husks intact, trim the silk (to help prevent it catching fire).
Some people pull down the husks, remove the silk and then pull the husks back up before putting the corn on the grill. I haven't found this necessary as the silk come off very easily after grilling.

Grilling corn on the cob

When you're grilling any food the tricky part is always the grill heat, which will affect cooking time. In order to achieve even cooking you'll need to to keep an even temperature in your grill. Keep the grill lid down during cooking.
Keep the grill temperature between 375 and 400 degrees. Turn the corn (using tongs) one quarter turn every 5 minutes for 20 - 25 minutes. It's done when you press a kernel and it shoots out it's sweet liquid.
When removing the husk from the cooked corn you'll want to use a dish towel to help you grasp the hot corn. If the silk or husk has left a bit of ash on the corn it's easy to wipe off. Keep the corn covered with aluminum foil to keep it hot until serving.

Variations of Grilled Corn
Some people prefer to soak the corn in the husk in water for about a hour before grilling it (using the same grilling method as described above). The result is more liked steamed corn. Some remove the husk and the silk and place the corn directly onto the grill (again, using the same grilling method as above).This is a great method, but it takes a bit more watching to make sure the kernels don't burn.

Click here to print this recipe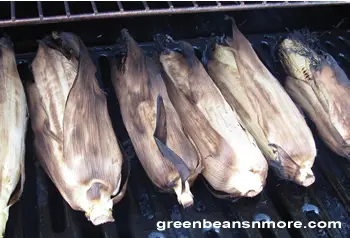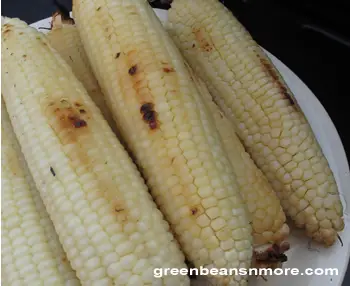 ---
Easy BBQ & Cookout Recipes


Grill Recipes

Grilled Corn on the Cob
Grilled Potatoes
Grilled Lamb Shoulder with Honey
Grilled Swordfish Steaks with Soy Sauce
How to Season and Grill the Perfect Hamburger
How to Grill the Perfect Steak

Marinade & Meat Sauce Recipes

Balsamic Steak Sauce
Barbecue Beef Marinade & Tenderizer
Caribbean Marinade Recipes
Henry Bain Steak Sauce (original recipe)
Indian and Asian Marinade Recipes
Moroccan BBQ Sauce and Mint Chutney


Salad & Side Dish Recipes

Angel Hair Pasta with Sun Dried Tomatoes
Baked Beans with Maple Syrup
Broccoli Salad, Sweet & Sour
Green Beans and Prosciutto Pasta Salad
Green Beans and Summer Squash Sauté
Green Bean, Endive & Boston Lettuce Salad
Greek Shrimp & Caper Pasta Salad
Lemon Green Bean & Celery Salad
New Potatoes with Peas & Mint
Patriotic Potato Salad
Strawberry Spinach Salad
White Bean, Green Bean & Red Bell Pepper Salad
Tasty & Easy Green Bean Recipes


Armenian Green Beans with Ground Meat and Tomatoes (Fassoulia)
Blanched Green Beans
Cream of Green Bean Soup (Company's Coming)
Fried Green Beans
Dilly Green Beans Recipe - Canning Recipe
Ginger Garlic Green Beans
Greek Green Beans
Greek Potatoes and Green Beans
Green Bean Soup (Company's Coming)
Green Beans a'la Waterman's
Green Beans Almondine
Green Beans Almondine (with a hint of lemon)
Green Beans Almondine (with an Asian flair)
Green Beans Almondine (with mushrooms)
Green Beans and Prosciutto Pasta Salad
Green Bean Casserole (Campbell's)
Green Bean Casserole (Cook's Illustrated)
Green Beans, Endive & Boston Lettuce Salad
Green Beans in Sour Cream & Tomato Sauce
Green Beans Provençal, Chef Simone Beck
Green Beans Provençal, Cooking Light
Green Bean Salad, Dill, Parsley & Savory
Green Bean Salad, Feta & Pecans
Green Bean Salad, Soy Glazed Almonds, Cilantro
Green Beans with Coconut
Green Beans with Ginger Butter
Green Beans with Onion Paste (Madhur Jaffrey)
Green Beans with Roman Mustard
Green Beans with Shallots
Italian Green Beans (St. Anna Beans)
Lemon Green Bean & Celery Salad
Oven Roasted Green Beans
Pears with Green Beans & Bacon
Persian Green Beans & Rice (Lubia Polo)
Sautéed Green Beans with Hazelnut Crumbs
Sesame & Portobello Green Beans
Sicilian Green Bean & Fennel Salad (Cooking Light)
Stir-Fried Green Beans with Pork & Chilies
Sweet & Sour Green Beans
Thai Green Beans (Cooking Light)
Three Bean Salad Recipe
White Bean, Green Bean & Red Bell Pepper Salad